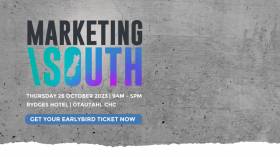 On October 26th, Marketing South 2023 will gather marketers from across New Zealand for a day that promises to be full or thought-provoking discussions, fantastic speakers, insightful case studies, boundless networking opportunities, and a whole lot of fun!
We are particularly looking forward to the conference as our very own Lee Retimana, Chief Marketer and Brand Strategist of Muritai Group, will be emceeing this special event, for a second year in a row.
As host, we invite you to join the ranks of New Zealand's brightest marketers. Don't miss out on the chance to be part of a conference that will shape the future of marketing in the South Island.