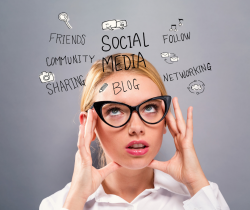 "We don't have a choice on whether we do social media, the question is how well we do it."– Erik Qualman author
Why should you care about social media? Because a whopping 78% of consumers say that companies' social media posts impact what they buy (source).
In New Zealand, 3.5 million people are active social media users who spend 1 hour and 53 minutes using social every day. Social media is here to stay and if you are not using the platforms effectively, you could be doing your business more harm than good.
At Muritai Group, we are all about making sure your message is seen by the right people at the right time, keeping it on point and interesting. I recently gave a presentation at a local networking meeting on the mistakes that businesses often make with their social media marketing. The following is a distillation of my top tips for communicating online.