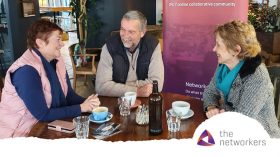 The Networkers® NZ is a local business networking organisation that supports business owners and entrepreneurs with connections, advice, knowledge, and guidance so they can successfully navigate the highs and lows of their business journey.
It's the perfect business for Founder and CEO, Maria Gold, who has always been passionate about community, connection, and coffee.
"Many years ago I was discussing the ideal job with some friends over a coffee, of course, and I made the comment my ideal job needs to involve coffee and chatting with friends on a regular basis."