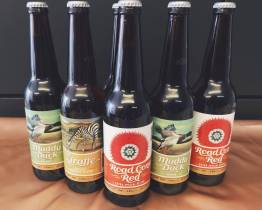 There's no denying that John Harrington, founder of Harrington's Brewery knows a lot about craft beer. So when John and Derek McCullough, both long-time Mt Pleasant residents, got together to think of ways to raise money for the rebuild of the Mt Pleasant Community Centre, the conversation soon turned to beer.
From there, the idea of producing a Mt Pleasant series of beers was born, using the best and most popular of Harrington's award winning craft beers.
Muritai Marketing, as local residents ourselves, decided to get behind this community initiative. On the 25th November 2015 to much fan fair, we launched four beers - Broad Reach, Ziraffe, Muddy Duck and Road Cone Red - under the by-line of 'Good beer doing good.'
Combined with Mike McGurk's stunning beer label designs, the beers are set to become a popular way to raise much needed funds to complete the centre.
Believed to be the first social enterprise initiative of its kind in New Zealand, every beer purchased equals a gold coin donation to the Mt Pleasant Community Centre rebuild. Timed to coincide with the summer time BBQ season these beers are a 'hopping good' Christmas gift for business clients and craft beer lovers alike.